By Rachael Grealish
A family who was helped by the Great North Air Ambulance Service (GNAAS) has raised more than £12,500 for the charity by recycling unwanted clothing.
Will Clark, from Grasmere, has been a supporter of GNAAS, since he, unfortunately, required the services of the charity back in July 2012, following a serious cycling incident.
During a charity triathlon, Will suffered a serious neck injury when a stick got caught in the wheel of his back – leaving him paralysed.
GNAAS were there when Will 'needed them'
Recalling what happened, he said: "Tragically during a charity triathlon, a stick got caught in the wheel of my bike sending me over the handlebars and leading to me breaking the right side of my neck with permanent damage at the C4 vertebrae. This led to me being paralysed from the shoulders down.
"Being young and fit I hadn't given GNAAS much thought prior to this accident. The good thing is other people's support meant that they were there when I needed them."
Will was flown to the Royal Victoria Infirmary in Newcastle for surgery before being transferred to James Cook University Hospital in Middlesbrough where he spent five months in rehab before finally being discharged.
Ever since, Will has been incredibly supportive of GNAAS and in 2014 he raised more than £12,500 after completing the Great North Run in a manual chair which was pushed by a team of friends and family.
Will, who is a councillor for Cumbria County Council, not only fundraises for the GNAAS but is also a volunteer, and has regularly given talks to the local community about the work the charity does and its invaluable services.
He said: "I have since spoken to many groups largely in Cumbria about the charity to encourage them to give their support and help them understand where the money that they have raised or plan to raise goes and how important it is."
Inspired to do more
It was in 2021 during an open day for GNAAS volunteers when Will and his mother Angela first got the idea to raise more funds by collecting unwanted clothes.
Since then they've held three clothing collections, Will said: "The first was quite low key, we have certainly learnt as we have gone on, and the second and third were at Ambleside Parish Centre.
"We also spoke to Ambleside School about what we are doing and why, and Miles the Bear, who is a mascot for GNAAS, even made an appearance. Each time we have held a collection, word has spread and we have had a greater level of support."
After each collection, the clothes have been picked up by our Trading Company's recycling team, who sell the items to buyers across Europe and the UK and then donate the proceeds to the charity.
GNAAS Thanks 'Inspirational' Volunteers
Mieke Tennant, the community fundraiser at GNAAS, said: "In December Angela organised a collection of 250 bags of clothes, and then in January our Trading Company picked up no less than 365 bags from Ambleside Parish Centre.
"I'd like to thank Angela, Will, and Ambleside Parish Centre who allowed us to use their space, as it was completely taken over by bags.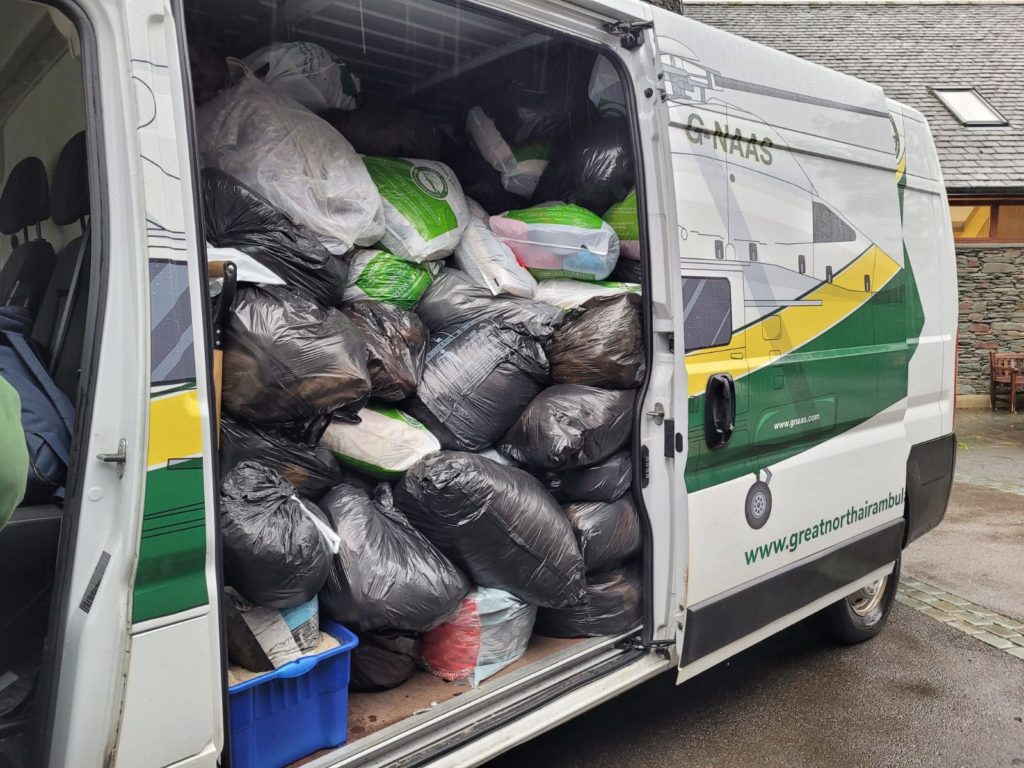 "We're also very happy to welcome Angela onboard as an official registered volunteer for GNAAS. She is so inspirational, and she's helping us recruit other volunteers in the area, which is fantastic."
Their next clothing collection is taking place at Ambleside Parish Centre on 4 April 7-9pm and 5 April 10am-12pm.